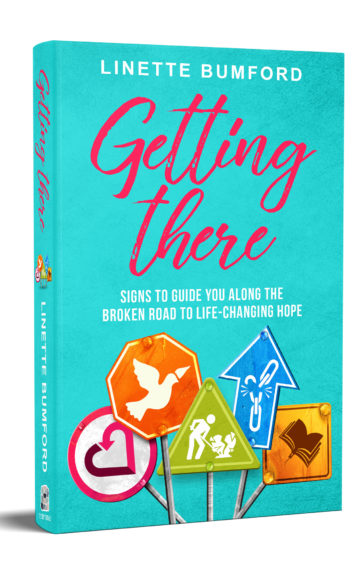 $12.99
Publisher:

12 Dry Stones

Available in:

Paperback, Kindle

ISBN:

978-1732341005

Published:

November 7, 2018
Get it HERE!
Getting There: Signs to Guide You Along the Broken Road to Life-Changing Hope
Are you ready to take a powerful redemption journey from pain to healing? If the pain of the past has left you exhausted, confused, fearful, sad, or hopeless, Getting There is your roadmap to hope.
Travel through Mile Markers such as transformational "Road Work," learn patience in the "No Passing Zone" while "Yielding" to God's heart, and allow yourself the permission to "Merge" into a community. Getting There also encourages you to view "Detours" as tests of faith that bring you to divine destiny and provide Fuel for the long haul.
Each chapter will take you on a small journey, guiding you to a place of healing through self-examination and practical actions as you learn to recognize God's navigational signs in your life.
Sojourn with Linette as she also shares her journey through emotional twists and turns, ("Winding Roads"), chasing hope in empty outcomes ("No Outlets"), making poor decisions ("Wrong Ways"), and a critical "Dead End" moment in her life when she had to decide to "U-Turn" and let God be her "One Way."
If you need a "Rest Area" in real life, Getting There will help you recognize the signs along the broken road to life-changing hope.